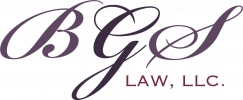 ATTORNEY ADVERTISEMENT | DISCLAIMER
CONTENT ON THIS WEBSITE IS NOT LEGAL ADVICE. 
The content on this website is published for general information only, and is not intended to provide legal advice or opinion(s). Relevant legal advice can be given, and relied upon, only after firm has entered into an agreement to represent client(s). 
Information obtained on, and submitted to, this website, DOES NOT CREATE AN ATTORNEY-CLIENT RELATIONSHIP OR REPRESENTATION AGREEMENT.
BGS Law is located in Rockville, Maryland and proudly serves all areas of Montgomery County, including Rockville, Olney, Silver Spring, Potomac, Gaithersburg, Poolesville, Bethesda, Germantown, and Clarksburg. 
Our Satellite offices are located in Frederick, Maryland and Hollywood, Florida. We proudly serves all areas of Frederick County, Maryland including Frederick, Braddock Heights, Middletown, Hyattstown, Urbana, and New Market. We proudly serve Broward County and Miami-Dade County, Florida, including Hollywood, Miami, and Fort Lauderdale.
Copyright 2018-2019 - BGS Law, LLC.